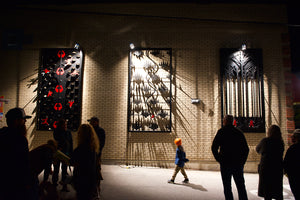 A familiar brick wall is transformed into a ski slope, with dancing shadows and playful skiers in this intriguing three dimensional work. This piece of living art changes with time, weather and the movement of the sun, like a sundial. It reimagines and celebrates an often underappreciated era of Revelstoke architecture, and playfully highlights one of our community's favourite pastimes, skiing.
---
The exhibit is a collaboration between several community groups, including the Revelstoke Aboriginal Friendship Society, Arts Revelstoke, School District No. 19 and the B.C. Interior Forestry Museum, other organizations, and many volunteers. The REDress Project by Jaime Black is a public art installation that was created in response to the missing and murdered Indigenous women (MMIW) epidemic in Canada and the United States. The on-going project began in 2010 and commemorates missing and murdered indigenous women from the First Nations, Inuit, Métis, and Native American communities by hanging empty red dresses in a range of environments. The project has also inspired other artists to use red to draw attention to the issue of MMIW,...
---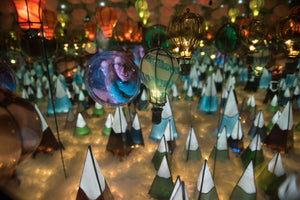 Concept: In love with Revelstoke's unique infrastructure and quirky character, Leahey and her team took one of the unique city Bandstand Kiosks and transformed it into an infinity box.  In this installation, the kiosks became an endless 360 degree scene staged in a lit cube of mirrors. A space was provided for viewers to poke their head through the monochromatic shell only to reveal a magical world of colour and reflection. An additional viewpoint on the other side offered space tor a friend to frame up a smart phone camera for the ultimate fantasy portrait. A team of artisans...
---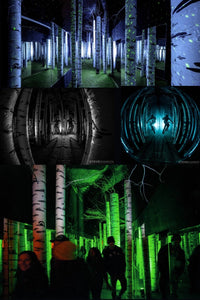 Concept:  Inspired by the infinity rooms of Yayoi Kusama, Leahey takes her unique, monochromatic illustration style into the third dimension by creating an ethereal birch forest in a secret downtown courtyard. The tight alleyway appeared border less with the mirror lined walls, creating a magical nocturnal forest, in an abandoned urban space. A hallway like structure was built, with a roof 20' above, and wrapped in the landscaping cloth. The flooring was a long shag AstroTurf, and trees made on Sono tubes, and embellished with paper mache to create bark texture. Majority of the mirrors were crowd sourced from the...
---
 THE SNOWGLOBE  Concept: The bandstand is easily one of the town of Revelstoke's most recognizable features and its spherical shape made it to be the perfect location for this project. Where the umbrella ends, the sides were surrounded in panes of Plexiglass, giving the illusion of a snow globes glass ball. Viewers were able to enter the scene from behind the installation, through purposefully staggered interior features, and once inside, it was snowing! Snow machines from a Vancouver movie production company were used, and artificial snow made from snow fluid, which is essentially soap, raged a blizzard. The staged set was...